Dad's Secret Sandwich Sauce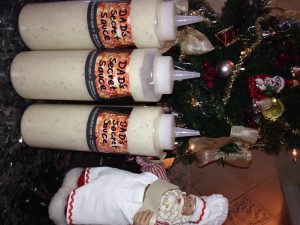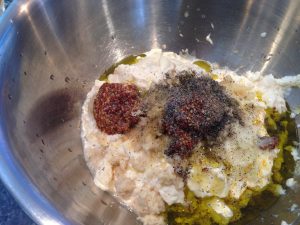 Great condiment for the holidays.  Spread heavily on your turkey sub sandwiches, using a crusted baguette for the bread.  It's so easy to make.
Ingredients:
30 oz. jar of Hellmann's Real Mayonnaise
Alternative: See Make your own Mayonnaise
5.5 oz jar of Dick's Horseradish
6 Tablespoons of Whole Grain Dijon Mustard
1/4 cup of Extra Virgin Olive Oil
1 entire head of fresh squeezed Garlic
2 teaspoons of Ground Pepper
1/2 Tablespoon of Old Bay seasoning
1 Tablespoon of Onion Powder
2 Tablespoons of Lemon Juice
2 Tablespoons of White Wine Vinegar
2 teaspoons of table salt (optional – add last to taste)
Instructions:
Mix all the ingredients (except the salt) listed above into a mixing bowl.  Blend with an immersion mixer or blender.  Beat well.  Taste and add salt if needed, since all the other ingredients have a salty taste.)  Pour into a jar or ideally, a squeeze bottle.  Squeeze or spread onto bread before adding meats, cheese, tomato, lettuce and anything else except for any other spread.  This is the only one you'll need.  Keep refrigerated.